At Timely, we are constantly improving our event management software solutions. In this post, you will learn about our new product updates, posted on December 6, 2021, which includes improvements on event status, featured events, and Arabic, Danish and Turkish languages.
1. Event Status
We've added 4 new event status options for your events:
NEW;
UPDATED;
TENTATIVE; and
TO BE DEFINED.
All of these statuses are available for all Timely customers on the Event creation screen.
In addition, now the event status shows up on the public view of your events calendar, on each event post. See below an example.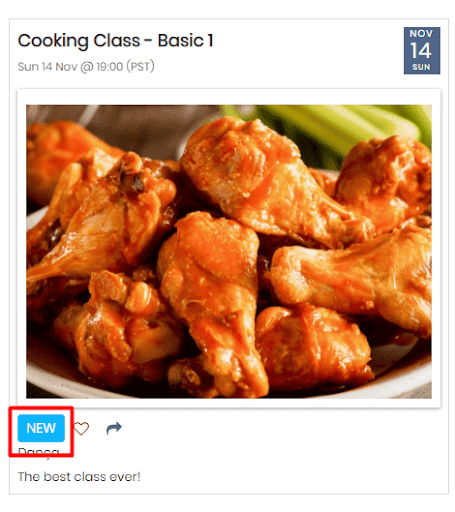 The NEW, UPDATED and TENTATIVE event statuses are clickable when the event has tickets associated with it.
Moreover, the event status can be automated. To enable the automation, simply go to the Settings > General > Misc Settings. When enabled, the event status will automatically change to NEW when an event is created or UPDATED when there is any change to the event.
2. Featured Event
Now, events can be set as featured events, giving you the option to highlight certain events in the public view of your events calendar, as shown in the image below.
You can set up an event as "Featured" when creating or editing an event. The option Featured event will show as a checkbox.
Additionally you can change the color of the featured event text and background. Simply go to Settings > Design > Custom Colors and select the view you want to customize. Below you can see an example of how to change these settings for the posterboard view.
3. Arabic, Danish and Turkish Languages
As per clients' requests, three new languages are available on the public view of Timely software. Now, events calendars can be shown on 12 languages, including Arabic, Danish and Turkish.
If you think you can benefit from our last product update, and would like to have these new features added to your plan, please contact us. We will be happy to help you.
For more user guidance, please go to our Help Center. If you have any questions or need additional assistance, do not hesitate to contact us. Alternatively, you can open a support ticket from your Timely account's dashboard.