At Timely, we are constantly improving our event management solutions. In this post, you will learn about our product update posted on February 11, 2021.
1. Updated Front End Submission (FES)
We just released a new update of the Front End Submission feature with the following improvements:
Security update
Security is a very important thing to us. Therefore, in order to protect our clients and their customers' sensitive data from malicious behaviours and attacks, we are phasing out of anonymous FES.
From now on, as a new update, all event submitters are required to sign-in to Timely application to be able to submit events. This new rule applies to all clients that have the front end submission form feature in their plans.
Automation
To simplify and speed up event submitter and event submission approval process, we've created and released new automations. In this new update, clients will be able to approve event submitter users and submitted events automatically.
Now clients can chose to automate the approval process for all new event submitters and / or all new events submitted.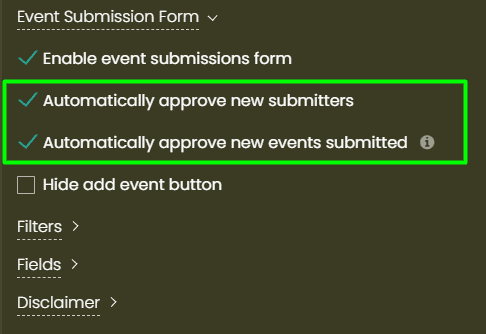 Alternatively, clients can choose to automatically approve events submitted by specific event submitters.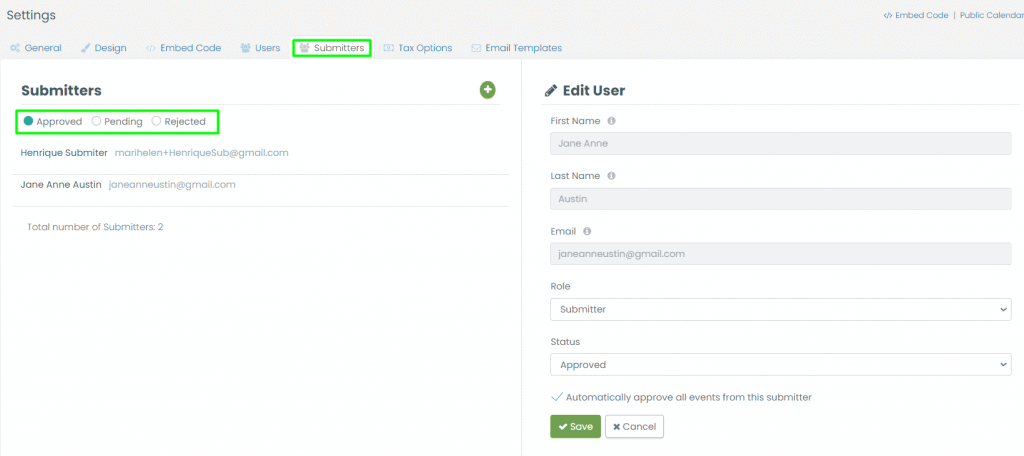 Lead Generation
Even though the sign-in requirement may create an extra step for the community to submit events through FES, it will generate leads for clients who use this feature.
Now, admin users know the full name and email address of event submitters to their calendars, and will be able to engage and also contact them.
This feature is particularly useful if additional information is required to publish the submitted events.
Customization update
We also redesigned our Front End Submission form settings, giving our customers more control and flexibility with the information requested by their event submitters.
Now clients can customize which filter and fields will appear on their forms, and select which are mandatory and which are optional.
Additionally, we created a new disclaimer option in the FES settings. Clients can now customize the disclaimer text in their Front End Submission form.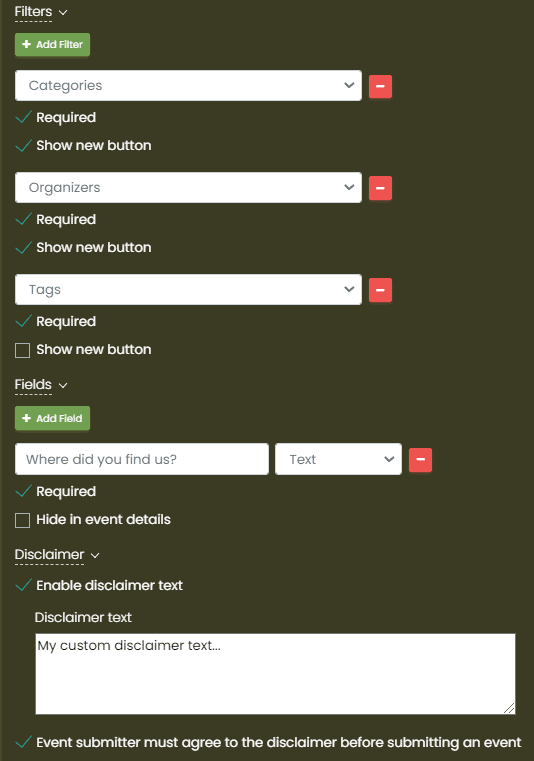 We are working on additional improvements to FES and will release them in the next weeks.
Once the improvement package is completed, we will publish an updated post on our User Guide explaining in details how the new FES works. Stay tuned!
If you would like to have these new features in your plan, please contact us. We will be happy to help you.