Updated December 13, 2021
The purpose of an online event calendar is to create a centralized hub for community members to discover what's going on in their local area and to generate revenue. So if you are struggling to make an existing calendar profitable and looking for ways to monetize events for your business, we are here to help!
To help you monetize events, we created a comprehensive list that showcases 6 great ways to create more revenue for your event business with Timely Event Management Software Solutions.
Are other businesses posting their events on your website? Because if they are, we have a creative online event management solution for you to monetize your event calendar into a revenue stream.
Interested?
Read on to learn more about the strategy around monetizing events.
Since event promoters are interested in the service of promotion, this is the perfect time to ask them to pay for additional services while getting their event seen by more people.
In fact, this is the best opportunity for you to start making returns on events.
Learn how to set up EventPromote here
Note:
Some Hubs also hide the front-end posting button behind password/member protected walls and they charge an annual fee to have access to posting to their site.
Other sites allow front-end posting to be free, but charge to subscribe to a feed OR allow both front-end posting & feeds for free are only to current advertisers.
2. Increase your event business revenue with advertising
By charging other businesses to include their event listings on your calendar, you can start to monetize events in a simple and community-focused way. As a result, you will not only open the door to new revenue opportunities and make your calendar more functional and captivating for readers, but you will also build partnerships that extend beyond the historical scope of your industry.
Follow these steps for creative online event management best practices:
Have a sign-up page showing exactly where the ads of potential clients will be seen.
Advertise that a spot is available. There should be a link on the ad to your advertising sign-up page.
Provide a media kit. Who is your audience? What is your traffic & growth? This is your opportunity to brag about your event business. If you're just starting, sell your vision and growth numbers.
Include testimonials. Your happy customers are the best marketing, use the best testimonial to demonstrate your credibility. Potential advertisers love hearing that it's working for others.
Give weekly or monthly stats. Advertisers need to know that their money is being well spent - their marketing budget is constantly being competed for. Send out a regular update demonstrating that you're the front runner and will drive their business forward.
Provide a discounted renewal option. Reduce your churn. It is more cost effective for a customer to renew than to acquire a new one. Existing customers like to feel they're being treated better than the average bear.
3. Monetize events website with Google AdSense
Use Google AdSense if you have open spots you can't fill. AdSense is a free, simple way to monetize your event business by placing ads on your website.
Through this intuitive tool, you can increase awareness of your events, all while controlling how the ads are displayed. By incorporating these ads onto your website, you can boost revenue through increased audience reach, as well as general excitement building through exposure.
Note: It is recommended that you only use this route as a last resort – revenue is generally slim, ads aren't always local, and you aren't building any relationships with your advertisers/sponsors.
4. Use landing pages for services to monetize your event business
Business directories can rock – if you do them well.
Here's how:
Keep them standardized.
Keep a clean look.
Use images/pictures.
Keep people on your site, retain the value. Only provide URL links if the business has paid you for that privilege.
Have an easy sign-up & edit system for businesses to create their pages and make changes as needed.
Embed the business' upcoming events in their landing page as an automated way to keep their page fresh.
Have a general listing page (some Hubs do this for free to entice businesses to pay for a linking, individualized page).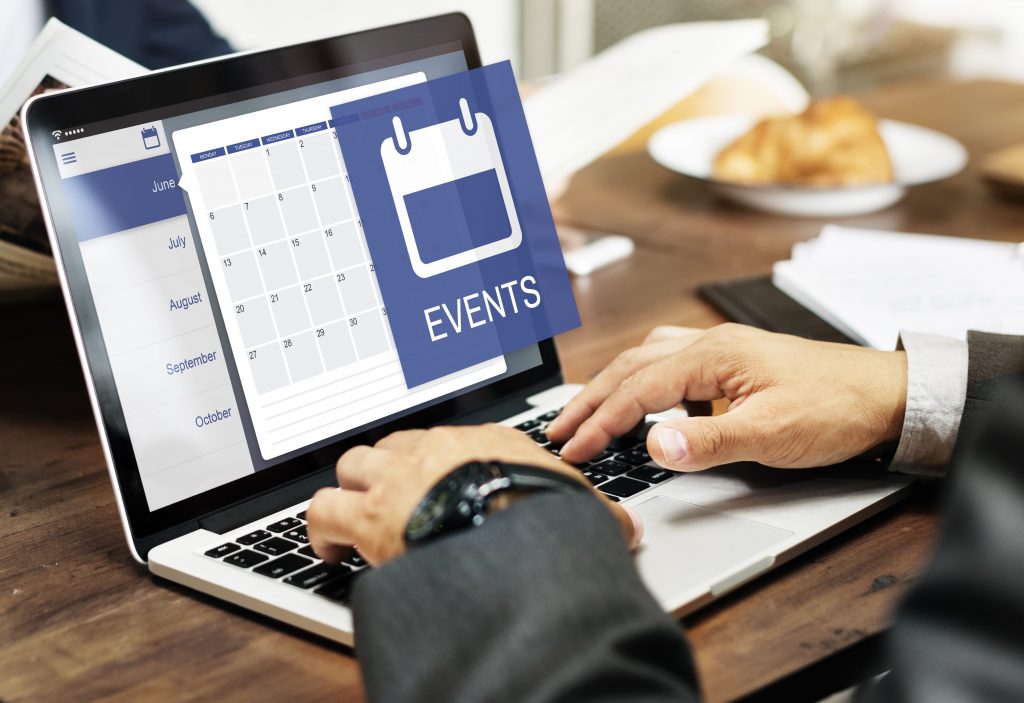 While this process is slightly more laborious than other strategies to monetize your event business, using promotional services to monetize events can pay dividends. Here are a few ways you can promote a business or their events. You can also combine these ideas with EventPromote (check number one above).
Featured events
Sell featured spots to advertisers and include those events in the featured spots on your event calendar. Embed the featured events either above your main calendar, on your homepage, or anywhere else you choose. Click here to learn more.
Note: putting the featured events widget on your homepage and your full calendar on another drives more value for featured events.
Newsletter
Learn how to integrate your calendar with MailChimp here
Automate this process by using the MailChimp integration. Every Sunday, it will distribute what's happening that week to your email list. Check out the Localist for more information.
Other ideas:
Another easy way to monetize your event business is to sell sponsorship to businesses in exchange for spots on your newsletters. Get weekly/monthly newsletter sponsors. For example: "What's happening this week brought to you by ...."
Only include links to your full calendar of events that are paying you. For example: Here are the Top 10 things happening this week.
Use your influence and other means to promote a business for a fee. Social media tools are a great way to promote events.
To make your event earn even more, you can set up an affiliate program so your organization earns some money for all referral ticket sales. 
What does that mean?
In exchange for advertising on your site or promotion at other events, you can earn on every ticket sold to another event. This savvy strategy not only helps build an events-based community and boosts your revenue, but it also allows you to become a known entity in your field, one who has a habit of helping others get the word out.
Monetize your Event Business with Timely Event Management Software Solutions
Monetizing your events calendar is easy with these 6 tips!
We hope these options help you explore your choices for revenue streams. Strategize a plan and creatively use these ideas to generate more revenue to your event business and attract new clients.
And once you have your event promoted and growing, get ready to take ticket sales and registrations!
For more information about Timely Event Management Software Solutions (even for churches), please go to our Contact Us page.