One of the most important things in the success of an event happens steps before the event itself. Taking the time to plan, create and promote your event is key. Showcasing your event in your website through an online events calendar can make it stand out. Therefore, attracting a bigger audience.
Why Creating a Good Looking Events Calendar for your Website?
An amazing looking events calendar can attract more website visitors and, consequently, have more attendees. You can boost your audience interaction by having a cool "What's happening" page, for example. That would help you build a following, drive your traffic up and have repeated and longer visits to your page.
Creating a captivating events calendar page also helps you monetize better. When thinking about spending their limited marketing budgets, advertisers and sponsors will research and compare your calendar to others. They tend to choose the ones they perceive more value in. With an attractive and well organized events calendar, you will stand out from the rest.
To have a successful events calendar, you also need to appeal to event submitters. No one wants to spend several minutes, or even hours, creating and updating their event posts. To keep your submitters engaged and satisfied, you need to provide a user friendly events calendar for them to submit events with ease. When everything is organized, easy to use and with a touch of charm and creativity, it can lead to event posting increase.   
With Timely Event Calendar you can create an amazing looking calendar, with easy to use functionalities and a different range of customizations to suit your needs. See below some tips on how to set up the framework for a great online events calendar and start your journey with the right foot.
1. Customizing Font & Colours
Keep your calendar as a consistent experience with the rest of your site and marketing material. With the Timely Event Calendar you can customize the font and colour of your calendar to match the visual identity of your brand. If you're just starting your business, now it's the time to set the tone of your brand and create matching themes.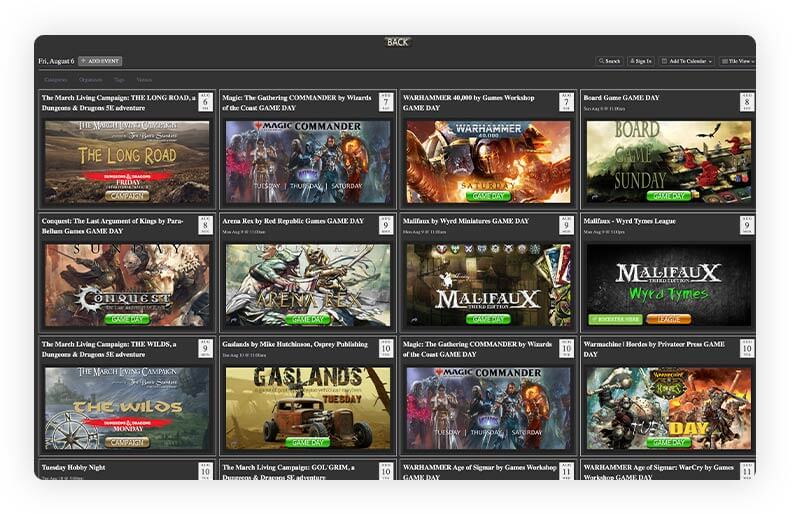 To customize your font and colour go to - Dashboard > Settings > Design. If you need help customizing the design of your events calendar, check our user guide How to Set Up your Account Design Settings for detailed step-by-step instructions.
2. Calendar Views
Timely's software also allows you to set the way you want your public to view your calendars of events. You can select several views, including Posterboard view, Tile view, Stream view, Agenda view, Month view, Week view and Map view.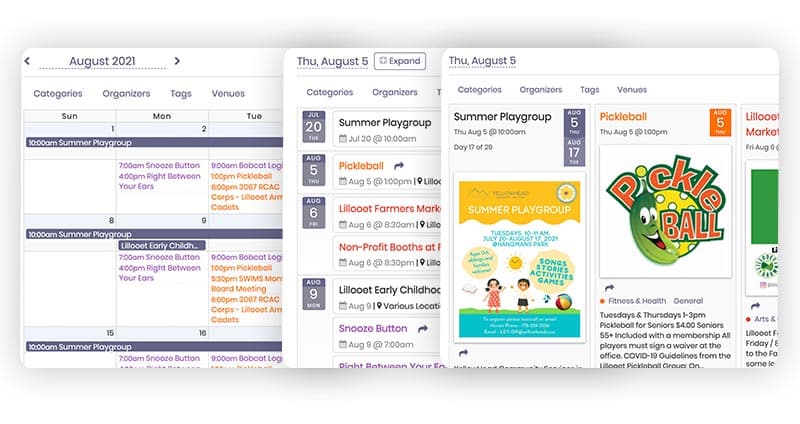 To choose from the different types of viewing, you can go to - Dashboard > Settings > General > Views
3. Events Organization
A well organized online events calendar will help you draw more users, sponsors and advertisers to your events. Using the "Filters" feature, you can arrange your calendar in terms of Categories, Tags, Venues and Organizers. You also have the ability to create as many filters as you like for your online events calendar.
Categories
There are lots of events happening around you, even in small towns and narrow niches. How you choose to categorize them in your events calendar sends a strong signal to your users of what types of events are available.
With our Event Management Software Solutions, you can separate events, for example, in categories like Arts & Culture, Deals & Specials, Nightlife, Health & Fitness, Wine & Dine, or anything else that you would like to label.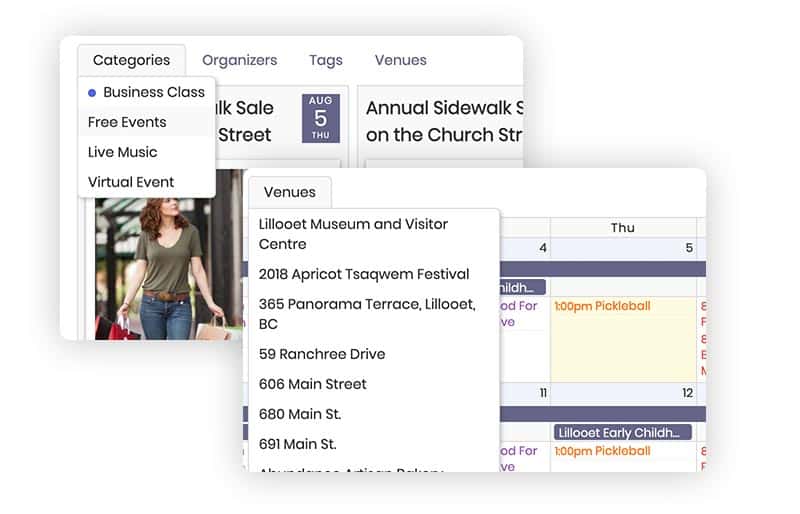 Our tool also lets you add a default category image, giving your event a backup image if one isn't provided. Using your own images are best recommended. Making it more local, you create a sense of community and closeness. However, stock images can also be used.
Consider setting up seasonal (i.e. Holiday), topical (i.e. Burger) or Neighbourhood tags. Your events calendar's tagging system will automatically send all relevant events there. Use them strategically. If you feel creating tags helps brand your site - this takes it up a notch!
Additional Filters
You can consider a filter selection for 'Where', providing a list of neighbourhoods, districts, etc. Another one for 'Type' , where you can separate between concert, festival, conference, workshop, etc. Or maybe even 'Cost', with selections from free, to donation, over $25, and much more. Select your drop down specifically for your audience. If you're a Parenting site, for example, you could define your 'Audience' by prenatal, infant, toddler, etc.
With the Filters tool, you will provide a user-friendly space and guarantee easy navigation for your users. To organize your calendar go to - Dashboard > Filters. If you need help using this feature, please check our user guide How to Organize your Calendar with Filters.
4. Embed your Events Calendar
The Timely Event Calendar also offers you the Embed function. With this tool, you can generate an embed code to be pasted onto your website. It gives you the freedom to choose a different embed code for Calendar, Slider and the Add Event button.
The Calendar code will show your events calendar, according to your specific settings. You can determine the date ranges (i.e. upcoming events, today's events, and custom date range). You can also set the default view and your language of your calendar.
The Slider code is used to feature special events you would like to highlight. You can either put this above your main calendar, or as a standalone event on your homepage. The best candidates for the slide selection are events that have a bigger audience reach, and have a great visual appeal.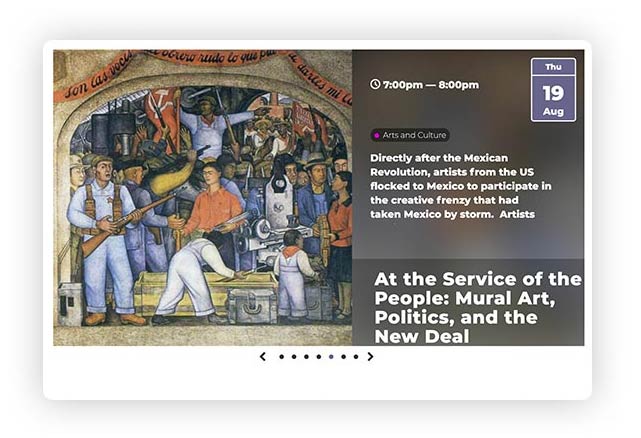 The Add Event Button works in connection with an Event Submission Form. You can have it on the top of your events calendar, and embed it on another page of your site.
We hope our tips help you build a successful online events calendar. If you still need help, please contact our support team at Contact Us.