At Timely, we are constantly improving our event management software solutions. In this post, you will learn about our new product updates, posted on November 5, 2021.
1. Events Calendar Design Improvements
1.1 Ten New Themes for Your Events Calendar!
We wanted to make it easier for our clients to customize the look and feel of their events listing. Our team came up with 10 new different themes out of the box for you to choose from. The 10 new themes are:
Amsterdam
Antique
Corporate
Echeveria
Twilight
Minimal
Peacock
Timely
Classic
Legacy
Login to your dashboard and go to Settings > Design and try them on to see which one would look better for your calendar. After picking a theme, you can customize them even more to match your brand, using the tools already available in our solution.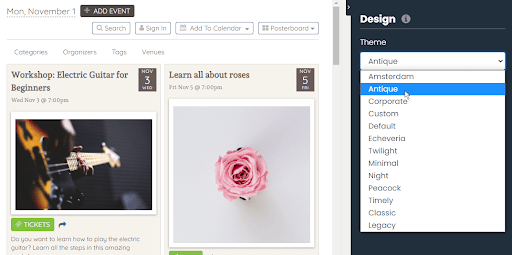 If you do not want to use any of the themes, you can always use the "Custom" theme, and do all your customizations from the scratch.
1.2 Two Event Page Layout Options!
Now, when you select your calendar theme you can choose among 2 layouts for your event page details. The theme will set the look, colors and fonts, and the layout will determine the position of the event information in the event details page. The two event post layout options are: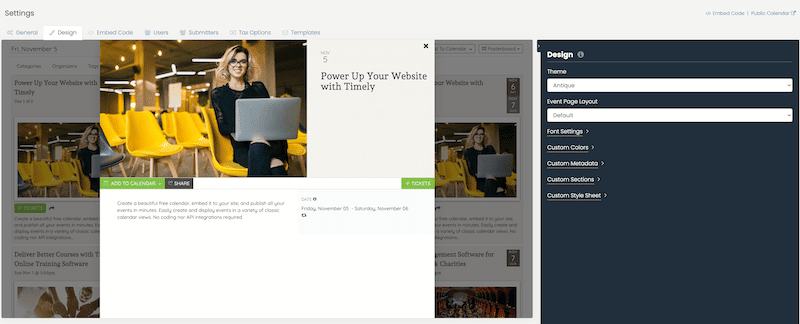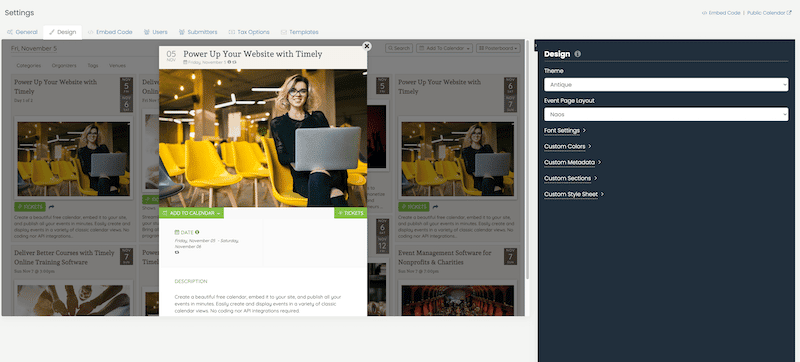 2. Discount Coupon and Checkout Process Improvements
If you have the Ticketing feature in your plan, now you will be able to create and distribute promotional codes to your customers when they buy tickets from you.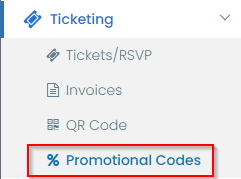 In the public view of you events calendar or event listing, the ticket section now has a boxed area where your customer can add the promotional code before the checkout.

Additionally there were some improvements on the checkout process. Now, your customer can check the order with all details before it is final. After checking the details, they can choose to go back and edit the purchase or complete the purchase by adding the payment option.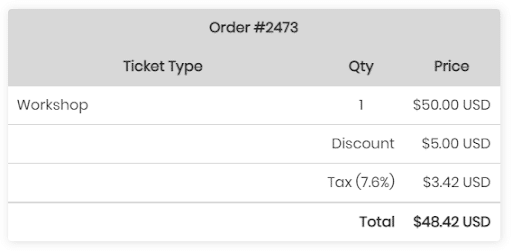 3. Event Booking: More Ticket Options with Time Slots
Now, with Timely Event Booking feature, you can create tickets and registrations with time slots for both free and paid events. You can select these new types of event registration when creating an event, in the section "Cost and Tickets".
Now you see three new options:
Time Slot Registration/RSVP
Time Slot Tickets
Entry Fee
In order to accommodate these new types of tickets, we improved the display as follows: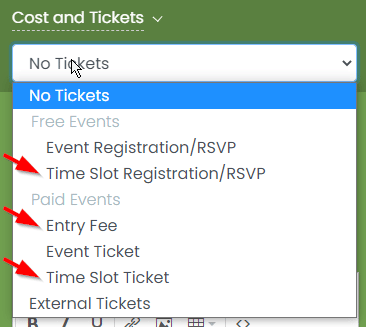 You can understand the new options better by compare them with the old ones:
No tickets is the old "No display" and "No Tickets";
Event Registration/RSVP is the regular RSVP (Old Timely Tickets & RSVP);
Time Slot Registration/RSVP is a new time slot option without a ticket cost (New Timely Booking);
Entry fee is a new option where you can set up a price and charge the attendee on site, for example (New);
Event Ticket is the regular Ticket (Old Timely Tickets & RSVP);
Time Slot Ticket is a new time slot option with price (New Timely Booking);
The External Ticket option doesn't change.
To help you guide throughout the new menu, check this comparative table:
| | |
| --- | --- |
| Old ticket option name | Current ticket option name |
| No display; No Tickets | No tickets |
| Timely Tickets & RSVP | Event Registration/RSVP |
| | Time Slot Registration/RSVP |
| | Entry fee |
| Timely Tickets & RSVP | Event Ticket |
| | Time Slot Ticket |
| External Ticket | External Ticket |
The new time slot tickets will show up in the public view of your events calendar or event listing like the image below: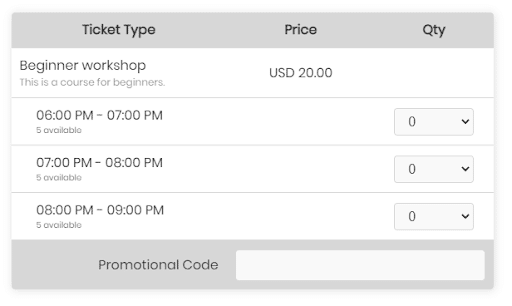 4. Organizer Information Is Available In Templates
Now, you can add the events organizers' information in the email and PDF templates by using the new dynamic field "Organizer Information". You can find the new dynamic field in the Templates tab, in the Setting menu of the dashboard of the Timely Event Management Software.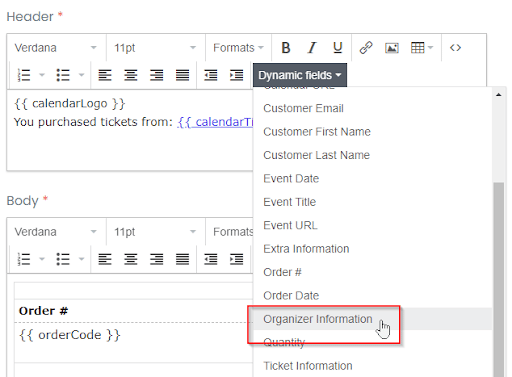 5. Show Count on Active Events per Filter
Now, you can see how many active and upcoming events your calendar has in each filter. To see the count, go to the Filters menu and choose the filter you want to check: Categories, Tags, Venues, Organizers.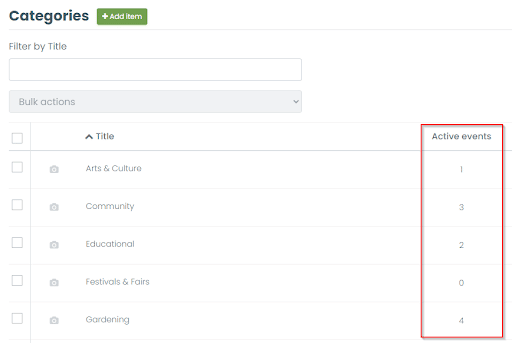 If you think you can benefit from our last product update, and would like to have these new features added to your plan, please contact us. We will be happy to help you.
For more user guidance, please go to our Help Center. If you have any questions or need additional assistance, do not hesitate to contact us. Alternatively, you can open a support ticket from your Timely account's dashboard.